Responsabilities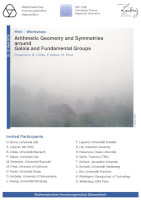 Oberwolfach - Arithmetic Geometry and Symmetries around Galois and Fundamental Groups.
Organizer with P. Dèbes and M. Fried of a mini-workshop on the recent developments in abelian & and anabelian Geometric Galois & Inverse Galois theories - see Report of the organizers (7 pages).

Abstract: The geometric study of the absolute Galois group of the rational numbers has been a highly active research topic since the first milestones: Hilbert's Irreducibility Theorem, Noether's program, Riemann's Existence Theorem. It gained special interest in the last decades with Grothendieck's "Esquisse d'un programme", his "Letter to Faltings" and Fried's introduction of Hurwitz spaces. It grew on and thrived on a wide range of areas, e.g. formal algebraic geometry, Diophantine geometry, group theory. The recent years have seen the development and integration in algebraic geometry and Galois theory of new advanced techniques from algebraic stacks, l-adic representations and homotopy theories. It was the goal of this mini-workshop, to bring together an international panel of young and senior experts to draw bridges towards these fields of research and to incorporate new methods, techniques and structures in the development of geometric Galois theory.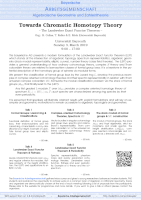 Bayerische AG ``Arithmetic Geometry and Number Theory''.
Organization of 1 day sessions of the Bayerische kleine Arbeitsgemeinschaft für Algebraische Geometrie und Zahlentheorie:
Towards Chromatic Homotopy Theory. On Landweber Exact Functor Theorem, the stack of formal groups, Thom cobordism and complex-oriented cohomology theories, see programme and references.
Abelian Schemes over Spec Z. Following the proof of Fontaine, on Tate Theorem for elliptic curves, finite flat group schemes and ramification theory, see programme and references.
See also
the list of previous topics
.
Arithmetic-Geometry Seminar, LIV Bayreuth, Germany.
From 2014 to 2017, I am the organizer of the Arithmetic-Geometry seminar which is a joint weekly seminar with Prof. Dettweiler and Prof. Stoll.
Leray Seminar, WWU Muenster, Germany.
From 2012 to 2014, I have been the organizer of the Leray Algebraic Topology seminar for Michael Weiss. I also organized some specials sessions around the topic of Operads.
Bureau des doctorants de l'IMJ, Institut of Mathematics of Jussieu-PRG, France
From 2007 to 2009, I have been a Phd representative at the Institut de Mathématiques de Jussieu in charge of the daily life of the PhD students (offices, IT service, etc).
The daily (mathematical) life at the Institut according to the
PhD students website
, with informations on the first steps at the Institut, the submission of the thesis and other amenities.
IMS'06, Avignon, France
From 2003 to 2006, I participated to the organizing committee of the International Mathematica Symposium 06. This symposium took place for 1 week at the Palais des papes in Avignon France and gathered around 150 users of the computer algebra system Mathematica coming from various scientifical areas (physicist of the CERN, computer scientists, biologists, mathematicians, architects,...).
I also gave a hand for the afternoon meeting on Teaching with Mathematica, organized by Jean-François Gouyet.
Support of INRIA, AMD and Apple.
Around 150 participants.